Jon Deutsch on Wednesday October 10, 2018 08:03AM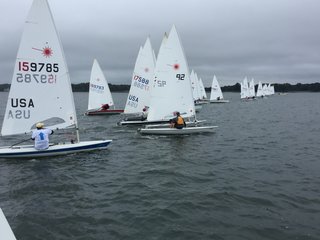 The Laser Masters Atlantic Coast Championship kicks off this weekend with the largest single fleet of the year approaching 50 boats sailing in the waters of the Piankatank. Competitors are coming from as far as Michigan, Colorado, New York and Canada for the not-to-be-missed annual laser masters regatta at FBYC.
This years uninvited guest is hurricane Michael that due to skirt the area in the early morning hours Friday as a strong storm and should be mostly passed by the time competitors are arriving Friday evening.
As always the regatta features an amazing meal of filet minon and salmon by fleet member Alain Vincey and Rick Klein is back as PRO with a great crew.