Jon Deutsch on Wednesday October 2, 2019 10:02PM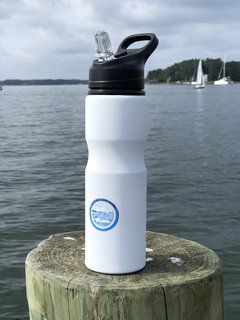 The 38th Chesapeake Bay Laser Masters Championship is just over a week away and the event is set to feature all of the things it is known for – great racing, amazing food, dedicated volunteers and a fantastic group of competitors who are fun to sail and hang out with.  This year competitors are coming from as far away as Florida, New Jersey, and beyond and also includes closer by contingents from Annapolis and the tidewater area.  A couple competitors are even tuning up for the regatta by sailing the Laser Masters North American Championship in Marblehead MA this coming weekend.  Those that aren't tuning up in Marblehead will be sailing on Saturday in the Laser Fall Regatta at FBYC.
A new feature at the club this year are water faucets on the side of Ric Place near the pool. The club has always had safe to drink water thanks to an extensive well-filtered water system – and now it's even easier to fill re-usable water bottles.
Each competitor at the regatta this year will be receiving a commemorative Chesapeake Bay Laser Masters re-fillable water bottle which we'd encourage you to fill and take on the water with you.  We'll still have some water, Gatorade and snacks available from the committee boat for those who need it.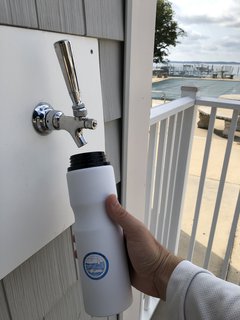 The early registration deadline ends on Monday so be sure to save a few bucks and help us get some accurate counts early in the week so we can be sure to bring enough food and supplies for everyone.
We hope to see you on Saturday, October 12 for the 38th Chesapeake Bay Laser Masters! A big thanks to Alain Vincey, Rick Klein, Mike Toms, Jess Hardin and many others for all they have done and will be doing in the next week to make this a great regatta!
Jon
P.S. – yes the water faucets look like beer taps and no you are not the first one disappointed to learn the real output.
Tags: lasermasters, laser