Brian Ankrom on Wednesday February 28, 2018 08:43AM
Schedule of Upcoming Events
Wed, Mar 7 - Winter Program (Jay Fleming on "Working the Water")  *NEXT WEEK - Sign up by March 4!!
Tue, Mar 20 - Crew Training (Classroom Session 1)  *SCHEDULE UPDATED
Tue, Mar 27 - Crew Training (Classroom Session 2)  *SCHEDULE UPDATED
Sat, Mar 24 - Bermuda High Party
Tue, Apr 4 - Crew Training (Classroom Session 3)  *SCHEDULE UPDATED
Sat, Apr 7 - Crew Training (On-Water Session 1) & Welcome Cruisers Party
Sat, Apr 14 - Crew Training (On-Water Session 2)
Sat, Apr 21 - Opening Day
Sun, Apr 22 - Spring Series 1
This week's Offseason Update:
Assembly of the

East Dock

is complete and piles are being driven. 

Feel free to stop by the Club to see the progress but mind the muddy grounds and be careful to avoid the construction site, dock sections in slips, and the Dry Sail Lot staging area.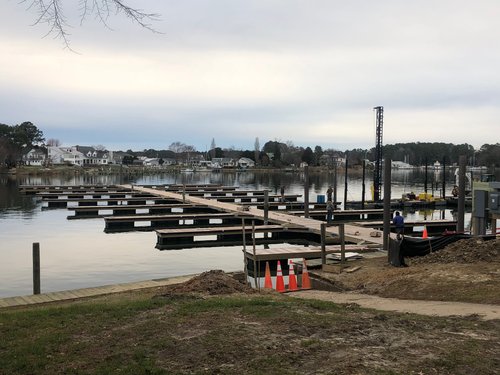 W

e are scheduling Spring Clean-Up and will be replacing the bathhouse roof this Spring.  Stay tuned for updates on these projects.

I will be on site three days per week (usually Monday, Wednesday, and Friday) during the offseason.

 

I can also be here by appointment.

 

I will be monitoring my email & voicemail periodically when I'm not on site.

 

Feel free to contact me if you need any assistance, notice a maintenance need, or have any questions.
Please stay posted for other offseason updates from FBYC,
- Brian James Ankrom, FBYC General Manager