Karen Soule on Wednesday November 6, 2019 08:19AM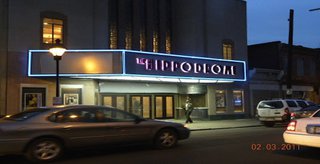 There's a party brewing and it's going to be a smash hit...just like the singers once featured at Richmond's Hippodrome. (Learn more at: https://hippodromerichmond.com)  
This 100-year-old theater that showcased greats like Ella Fitzgerald and Louie Armstrong, is the exciting location for our 2019 Annual Meeting and Commadore's Ball.  Look at the changes for this year:
Greatly reduced cost for members and guests
Passed hors d'oeuvres like Bang Bang Shrimp and cash bar
Family-style dinner featuring lamb chops, Montreal chicken, grilled asparagus and cupcakes from Pearl's.  YUM!
Music by the Jangling Reinhardt's 
We'll also have our annual meeting and awards presentation as part of the night so plan to celebrate with your sailing family and dance the night away.
Registration deadline is Thursday, November 7 at midnight so sign-up now at:
https://www.fbyc.net/events/2019/191116-social-commodores-ball/
See you on the dance floor!