Nancy Powell on Wednesday May 3, 2023 11:39AM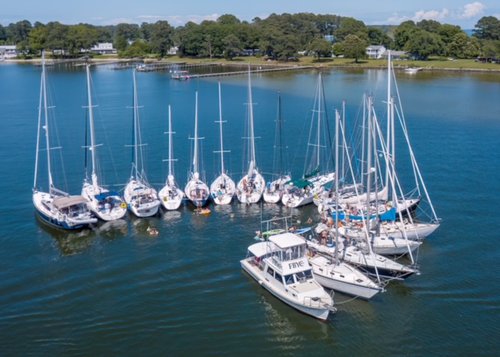 Join us for a fun-filled day of racing, raft up, dinner and DJ music.
Important: Everyone is encouraged to invite friends as this event will serve as a showcase for all that FBYC has to offer. 
This is a chance to explore new ways to get out on the water or to get out on the water for the first time!
Mix and mingle with Division members from the following programs:

One Design: Check out some One Design boats including the new Melges 15
Cruising Division: Take a look at some cruising boats and hear what's planned for 2023
Offshore Racing: for potential Skippers and Crew
Junior Sailing: Jr Week, Opti Kids and Sailing Teams
Adult Sailing: Upcoming classes and programs designed to get you on the water now!
Representatives will be on hand to answer your questions about how to get involved and enjoy the club to the fullest! 
The day starts off with a staggered start pursuit race for all boats around a set of government marks, finishing in the early afternoon just off the FBYC pier.
Everyone is welcome and encouraged to join in throughout the day.
The evening with conclude with a fried chicken dinner and music by a rocking DJ.
Schedule for the day:
0900- Skippers Meeting
1100- First Race Warning
1300- Raft Up
1630- Meet and Greet with Sailing Division representatives 
1800- Fried Chicken dinner and DJ
Dinner tickets (purchase by May 22):
$25 per adult (includes one drink ticket)
$10 per kid
$5 additional drink tickets
Menu:
Fried Chicken, Veggie Gnocchi, Roasted Mixed Vegetables, Potato Salad, Cole Slaw, Cookies, Brownies
Iced Tea & Lemonade
Beer and Wine available for purchase.
(Registration deadline for the dinner is 5/22)