Ron Jenkins on Tuesday July 2, 2019 07:44PM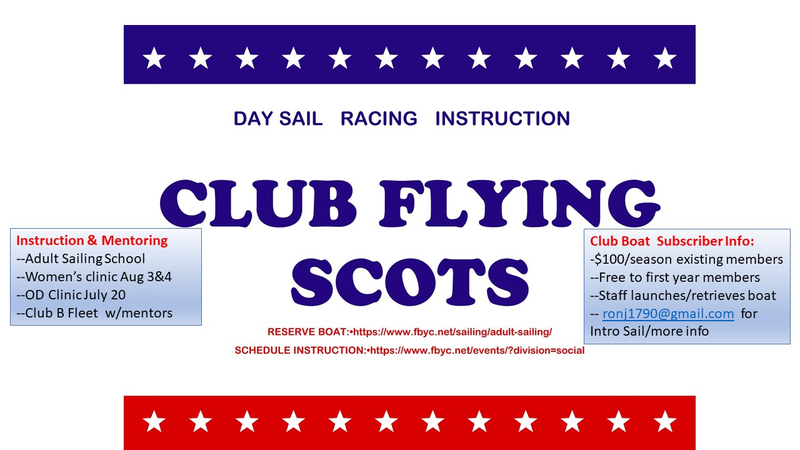 1--We now have an Adult Sailing School (for members and non members)
--Follow link:  https://www.fbyc.net/events/?division=social
--Look for Events titled Adult Intro to Flying Scot , or Intermediate Flying Scot, Etc
--Dates include July 6-7, July 13-14, July 20-21, July 27-28, August 3-4 (Women Only, Annual Event, very popular)
--Open Flying Scot Training Day (no fee, group seminar and Summer Sea Breeze race, on 20 July
2--You Can Reserve a Club Flying Scot for Club Events for Day Sails
--In most cases, we can arrange a complementary Introductory Sail to get you familiar with our procedures, our boats, and basic skills required to daysail.
--Follow link  : https://www.fbyc.net/sailing/adult-sailing/
3-Start Racing in our Club Races (with or without a Mentor)
--We have established Flying Scot B (Challenger Fleet)  for new racers
--Bring your own boat , or use a Club Boat.
--Contact Ron Jenkins, ronj1790@gmail.com if you want a Mentor to sail with  you
Upcoming Club Races are 20 July, Aug 3, Aug 10-11 (Annual One Design Invitational),  Aug 25 (Senior Skippers), Sept 8, Sept 14, Sept 28  -  Plenty of time to "Get in the Game"!
Sign up to sail in a club event at:  https://www.fbyc.net/events/?division=onedesign 
Cheers,
Ron Jenkins (Adult Sailing Co-director)
434-975-6347 (voice/text)  ronj1790@gmail.com