Strother Scott on Wednesday November 21, 2001 02:18PM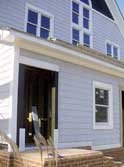 The new building is progressing quickly. You can now see that the windows and skylights have been installed, and most of the siding is on the building.
Shown above is brick stoop where the rear fire stair door will be. Upstairs you can see the windows facing east toward the pool. The heating and air conditioning units are installed and most of the HVAC and plumbing rough-ins are complete. More photos taken on November 17 are also available.