Geoff Cahill on Tuesday March 1, 2016 08:02PM
This perpetual award was first presented in 1981 by Commodore Beverly L. Crump. It is awarded to the Fishing Bay Yacht Club member skipper of a yacht or yachts enrolled in the Club Register, who have most successfully represented FBYC in sailboat racing events conducted by other yacht clubs or associations during the past year. Such events may be either one-design or offshore and specifically shall include Chesapeake Bay events, and events with area, regional, national and international competition. This trophy is intended to recognize the unusual and outstanding efforts by FBYC members, the character of the event or events entered, the quality of the competition, the extent of the effort involved for the FBYC member and the participation of all Club members shall be considered as well as the member's performance of such event or events.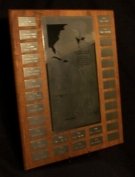 The original trophy was a plaque with a metal etched plate depicting various one-design and offshore boats in use at the time the award was first presented. The plaque had space for 30 winner nameplates. In 2011, new winners nameplates started to be affixed to the back of the plaque because there was no more room on the front. In 2015, Bev Crump and 2015 Commodore Matt Braun were exchanging sailing stories at a club function. The two Commodores began talking about the Competition Trophy and its history over the 34 years since its beginning. It was at that time Commodore Crump offered to underwrite the job of updating the trophy. The idea of an award for performance and participation at events away from the club and thereby spreading goodwill and the good reputation enjoyed by the club throughout the sailing community was popular and highly regarded. It had to continue. After considering a remodel, the players involved decided on a whole new trophy with up-to-date features and plenty of space for winners for years to come. Features include half hulls with rigging of an Optimist, a Flying Scot and a J/105. The plaque has the nameplates for all the winners going back to 1981 and has enough new nameplates to accommodate winners through 2040. For 2015 the award was given to 12-year-old Gannon Troutman for his exceptional performances, far and wide, from Key West Race Week to J/70 Worlds in New Rochelle, France. Congratulations, Gannon!
Tags: commodoresball