catesby jones on Wednesday September 3, 2003 11:09PM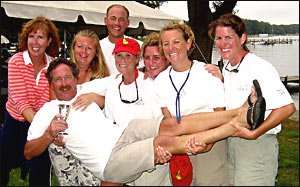 Paul Anderson, sailing his J29 Titillation, won the Stingray Point Regatta Halsey Memorial Trophy on Sunday, August 31. Assisting Paul were crewmembers (shown above from left to right), Diane Reilly, Michelle Garn, Rob Whittemore, Mary Carter, Elizabeth Staas, Morgan Marchant, and Carolyn Grant. The Brent Halsey Memorial Trophy is awarded to the winner of the Stingray Point Regatta.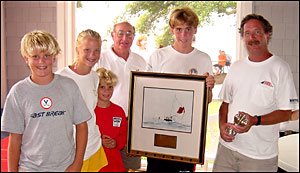 Philip Halsey, Ali Halsey, Christian Halsey, and Brent Halsey, III, accompanied by Commodore Dick Cole presented the award to Paul Anderson.
Over 45 boats sailed in this year's regatta representing 5 classes. Presiding over a packed clubhouse, Mike Karn, with Dick Cole and David Hazlehurst, conducted a festive awards ceremony. First place in the J24 Division went to Will Crump. Christian Schaumloffel, sailing Mirage, won first in PHRF A. Paul Anderson's Titillation took first in PHRF B. In Non-Spin Russ Collin's Morningtide took first. And in the J105 class Skip Amory took first place in Wolf. The Sportsmanship trophy was awarded to Clark Dennison, Chris Clough and the crew of Kobyashi Maru who came all the way from Jacksonville to compete at FBYC this year.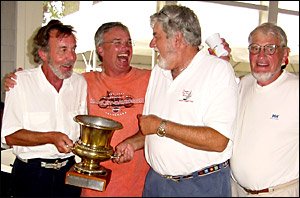 In a one point squeaker, Hampton YC's Wolf, Cyrano, and Independence took the Potts Challenge Cup here claimed by Skip Amory, Jimmy Cobb, and Marshal Field.