Brian Ankrom on Thursday October 11, 2018 08:16AM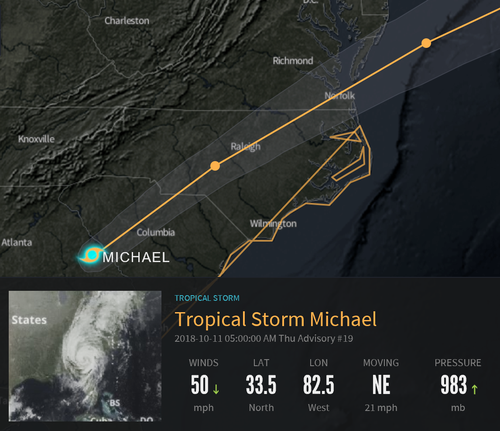 Hurricane Michael has been downgraded to a Tropical Storm and is still tracking toward Southeast Virginia.  Wind gusts up to 50, over 4 inches of rain and storm surge 2 feet above normal are expected.
We are in the final preparation stages at the club today in anticipation of the storm.  Please note:
BUILDINGS  –  The Clubhouse will be locked - access through the front door with keypad.  Fannie's will also be locked – access through the back/porch door with keypad.  The Bathhouse will be locked & unavailable for use. 
DOCKS  –  Power has been shut off to the West and Center docks.  Water will be shut off to all docks this afternoon - we recommend unplugging shore power cords & double-checking lines.  We also anticipate losing a few boards – please walk the dock carefully.  Caution tape will be placed at the beginning of each dock. 
CLUB BOATS  –  All boats are on their trailers and secured.  Club sailing boats are unavailable for use.
FURNISHINGS  –  All chairs, pool loungers, trash cans, grills, hoses, and dock carts will be stowed and unavailable.  All Gas lines have been shut off.
FISHING BAY ROAD  –  Bay water is expected to overcome the berm and flood Fishing Bay Road.  Driving to the Club without a high ground clearance is not recommended.
PERSONAL BOATS  –  The security and safety of personal boats is the sole responsibility of the vessel's owner.  FBYC staff and volunteers are not responsible for member-owned boats and are liable for damages sustained during the storm.  Please make any last-minute preparations you can TODAY.
Weather and travel conditions permitting, I will provide Club updates on the FBYC News Page and on Facebook.
Please be safe out there,
  -    Brian James Ankrom, FBYC Manager