Blake Kimbrough on Wednesday September 5, 2018 07:10AM
Light breeze may have truncated the number of races in our Stingray Point Regatta; however, the conditions could not have been more ripe for a front lawn cornhole tournament this past Sunday. Members, guests and teams of all ages from traveling yacht clubs showed up in droves to register their teams and get into the the action...all in all we had a full bracket of 16 teams and a tremendous group of onlooking spectators.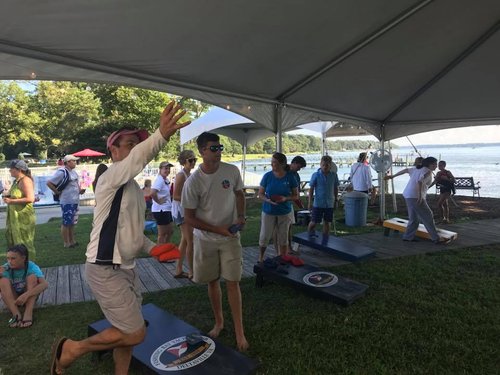 As we worked through the bracket in single-elimination fashion down to our final four, eventually the island mood-setting reggae tunes turned to amateur comedic commentary over the PA-system...it felt a little like watching Wimbledon play-by-play analysis performed by Will Farrell and Jimmy Fallon wannabes!  In the finals it came down to the Fishing Bay Team from aboard the Tartan 'Split Decision' versus a formidable duo from Solomons Island who had just won their class PHRF-A1 aboard the Melges 32 "USA-188." Coming down to the final few tosses though, it was our very own home team that prevailed and made us all proud...the crowd literally went wild!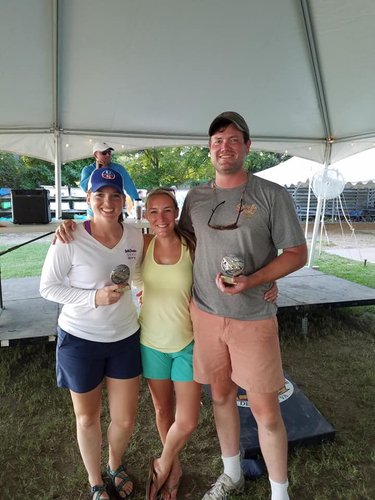 Congratulations to Stuart Kegan and Katie Yudkin for this epic repeat victory of the 2nd Annual FBYC Cornhole Tournament!  Thanks also to our YAM Committee event contributors Massey & Abigail Whorley and Eliza Strickland...to Brian Ankrom for supporting onsite event setup; and special thanks to the team from Ullman Sails, Jerry Lattell and Austin Power, for providing the super tasty taco bar buffet for competitors and spectators to enjoy during the tournament.  This was simply an absolute blast, and we cannot wait for next year!