Brian Ankrom on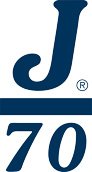 Registration is open for all J/70 Friday Night races.
This year Ullman Sails will be our sponsor led by Austin Powers who will act as PRO for most of the race days. His plan is run fun fast races with a debrief after racing. Austin has graciously offered to film racing with his drone and use as debrief material if conditions permit.
We are working with local restaurants to offer meals delivered to the club for paying participants. We plan to meals ordered ahead of time off select menu and have them delivered to the club for dinner after racing.
Contact Matt Braun (Matt.braun@thalhimer.com or 804-640-3184) if you want to join a …